604 992 2702
831 824 8005

why us
Over 12 years in business.
Fair prices
Top quality design
Risk free!
Profitable web marketing
We have been in business for over 12 years. Our prices reflect on the quality of work we do. Our strength is designing stunning looking websites and professional logos. Additionally we create website that fit all screen sizes e.g. iPhone, iPad and all desktop computers. Each of our designs are unique and crafted to satisfy the particularities of each project. We will work until you are absolutely happy. Once you are happy with your website, brochure, business card or logo design, we will make sure that your business makes money by directing visitors to your website through various website marketing techniques.
Our services:
Prime services
Other Services

web design and programming including, data base design and CMS ( content management system)
web marketing including keyword search, thorough Search Engine Optimization, page ranking reports
top quality graphic design & printing
copy writing
Is branding and Logo Design part of web design?
Let's assume you do not want to spend money on search engine optimization to be on the top of Google. Perhaps your business is local and funneled to computer illiterate folks. You will then need the fine printed material like brochures, posters, flyers, CD covers and business cards with a fresh, striking logo design. We can do all this for you - create, design & print. Remember - all our work is top quality. See our branding and logo design page, print and graphic design page and let us know.
Word of advise on web design, marketing and logo design
Web Design Clarity & Simplicity
We believe that a viewer should not have to go through heaps of text or cluttered information to understand the purpose of a design piece. This is where layout skills and typography are paramount. In a nutshell:
Selecting a photo or image that says literally a 1000 words is possible.
Choosing a colour scheme is always a challenge but with The 'M' Media its usually a best suitable choice.
The 'less is more' principle should be observed in most cases.
We create designs that convey your message in an instance.
See example of branding design
Our Web Design Guide
The web design field is always evolving due to constant development of technology. Scripts, languages and technology development are pushing browser vendors to update their products, whether it be Internet Explorer, Firefox, Opera or Safari, to mention just a few. Changes in technology facilitate more fashionable, good looking and well designed websites. Having said that, a professional web designer or web programmer will take advantage of these changes. Employing knowledge, experience and talent, he/she will create a website that exceeds your expectations and holds your customers' interest!
Design Process
The design process for a professional website is shown on the diagram below. The main focus of the web design is to create interaction whether by purchasing goods and services, acquiring members or involving visitors in the website activities.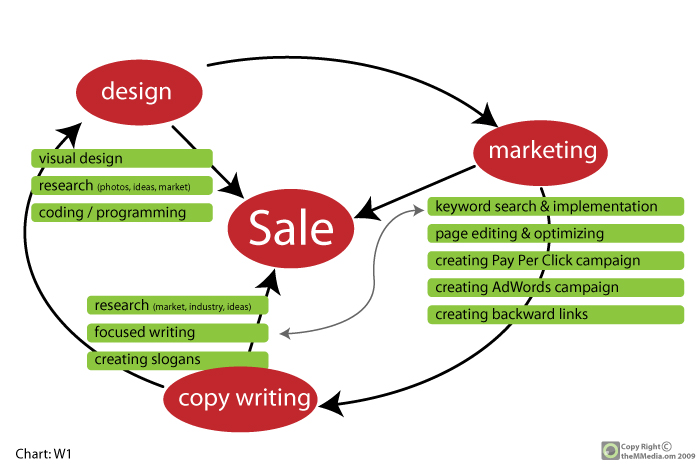 The web design process begins by collecting content information from a client. Here the copy writing takes importance as it is central to the intellectual setting of the whole web experience. At this stage, the text will also be looked at from a marketing perspective and optimized/edited in a way to suit the Google algorithm for best ranking.
Then the text fills the pages, being supported by graphics, pictures, video, flash presentation, 3D graphics and other multimedia design elements.
Here the coding and programming will be implemented to build navigation and interactivity into your site. This important element is invisible to the website visitor.
After the website creates a harmonious ensemble, it is tested and further optimized for Google algorithm for best ranking. This is coupled with keyword search and meta tags optimization. All this is called Search Engine Optimization, commonly called SEO.
Furthermore all graphics and elements needs to be properly named, described and titled. A site-map has to be generated and text must be organized to best suit the search engines' readability. Backward links also have to be created.
Additionally PPC (Pay Per Click) and AdWords campaigns are created to further increase traffic on the website.
Choosing a professional web designer
While reading pages on this website you may realize that having your website designed by a professional web designer will return your investments exponentially. Choosing the right web designer can save you money by avoiding wasted time and unsatisfactory results.
Your site represents YOU, so do not compromise on quality. There are several things you need to consider when choosing a web designer:
Web design fees
Web designers may charge as low as $20/hour for starters, $60-$90/hour for small size offices or freelance and $200/hour or more for a large web design firm. It all depends on their experience, overhead, the technology involved and the quality of service. Why so much? The hourly fee reflects administrative costs, office space, marketing/advertising, on-going learning/research among other considerations. The amount quoted should sound realistic.
Our Web Design & Web Development Fees〉
Choosing a web design
There are verities of website types:

commercial
informative
educational
personal
fun
etc.
Choose a design style and system that best suits your website purpose. Remember that what you personally like in design it may not necessary work for your site's visitors. Unless you have extensive experience with/knowledge of website usage patterns and functionality, it is better to rely on your web designer's experience and training. Websites should never appear phony or overly unusual. It should conform to the common standard, yet showcase your unique features in ways that generate more interest from the site visitor.
Function dictates design
Once a dentist asked me to design a website with a blooming flower picture, full screen. Although it was A very unusual idea and perhaps attractive, it was nevertheless misleading to the visitors. A good designer will suggests what is best for your design.
What Happens Once Your Website Is Complete?
Your website is perfect and you are happy! But the happiness will last until you discover that no one is visiting it. So we come to the next stage: marketing. Like most other design companies, we take care of e-marketing. This is different from standard marketing which is using physical media of distribution. E-marketing it is based on Search Engine Optimization, which is in fact only one part of the whole marketing procedure.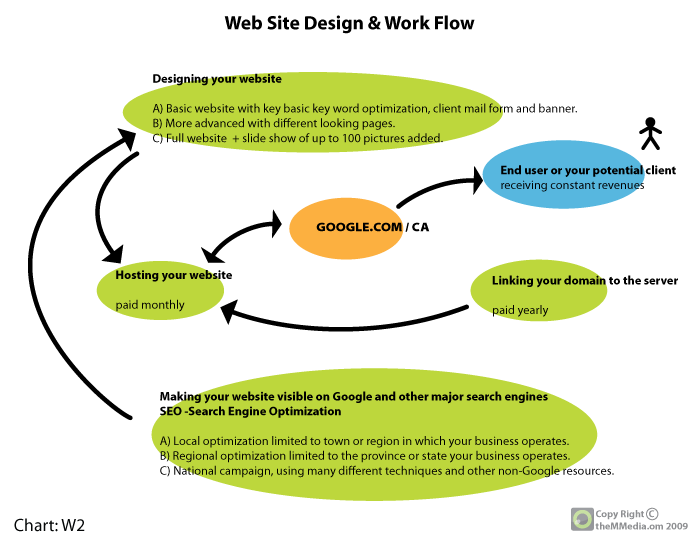 If everyone worked as diligently and communicated as well as you have over the past couple of days with me, there would be no customer complaints, lawsuits or business closures.
Kris
Ranking of our website for sample key phrases